Staff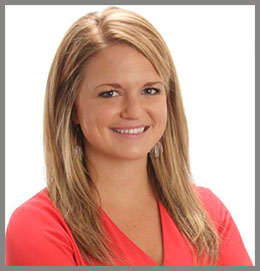 Sarah Joeckel
Physician Assistant
Sarah Joeckel, a certified physician assistant to Dr. Mufaddal Gombera, is here to help deliver the best care to each and every patient. A native of Arlington, Texas, she grew up in a very active sports family with three brothers, David, Matthew, and Luke. Playing multiple sports year round into high school, Sarah focused on volleyball and became an all state and high school All American during her junior and senior years.
Highly recruited, she accepted a full scholarship to play volleyball at Texas Christian University in Forth Worth. During her college years, Sarah became interested in orthopedics after overcoming her share of sports injuries. Realizing that she had a calling for a healthcare career, she majored in Kinesiology – Movement Science and minored in Business. On the volleyball court, she earned All-American and Mountain West All-Conference First Team honors. She still holds several school records.
After graduation from TCU, Sarah worked as Chief Scribe in the emergency room at Harris Methodist Hospital in downtown Fort Worth. She was soon accepted to the University of St Francis in Albuquerque, New Mexico, where she graduated Cum Laude with her Master of Physician Assistant Studies. Deciding to specialize in sports medicine in the Houston area, she was thrilled to join Dr. Gombera's practice and serves at the doctor's first assistant in the operating room.
Sarah is a member of the Texas Academy of Physician Assistants. She also evaluates and treats clients in the clinic, and when asked what she enjoys most about her work, she cites "seeing patients improve" and working with patients of all ages overcome their injuries.
Chantel Jefferson
Clinical Coordinator
As clinical coordinator for Dr. Mufaddal Gombera, Chantel Jefferson ensures our patients get quality and timely patient care and service. Valuing the satisfaction of our patients, she is dedicated and persistent in helping with patient needs and providing excellent service.
Chantel grew up in Cleveland, Ohio and became interested in health and sports medicine during high school. Being heavily involved in sports at a young age, Chantel was interested in continuing her education in sport health and continued her journey of learning into college.
Chantel moved to Houston, Texas after graduating high school in 2007. She was recruited to bowl on Texas Southern University Women's bowling team, and received countless awards for her performance. She was a part of the Honors College, majoring in Human Performance – Athletic Training. Chantel Jefferson graduated in 2011 Cum Laude with a Bachelor of Science in Human Performance – Athletic Training.
In 2012, Chantel started her Master of Science with a concentration in Health Education. She also became the graduated assistant coach for the Texas Southern University Women's Bowling Team. Chantel also joined Fondren Orthopedic Group in 2012.
Chantel graduated Cum Laude in 2014 with a Master's in Science in Health Education and also became an assistant bowling coach. She utilizes her collegiate coaching experience to provide excellent care for our patients at Fondren Orthopedic Group.